Secure Payments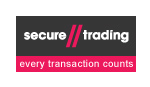 SERVICE UPDATE:- Our website is now OPEN and taking orders again following our recent flooding. Please bear with us as orders may take a little longer than normal while we replenish our stocks.
Cello Bags with Euroslot Header
A range of cellophane display bags with a white euroslot header, perfect for hanging on display in card or craft shops. There is also a self-seal strip across the bottom of the bag which allows for the product to be fastened easily with a quick peel and stick.
Sample bags are available, free of charge, for product testing and suitablilty.
Olympus, Cello Bag, with Euroslot Header, Size 60 x 65mm£0.10

Price as low as £0.03 subject to quantity

More Info

Olympus, Cello Bag, with Euroslot Header, Size 60 x 65mm - 1,000 pack£21.71

Price as low as £19.32 subject to quantity

More Info

•Sample Olympus, Cello Bag, with Euroslot Header, Size 60 x 65mm£0.00

A free sample to show quality and size.

More Info

Olympus, Cello Bag, with Euroslot Header, Size 65 x 120mm£0.08 (1)

Price as low as £0.02 subject to quantity

More Info

Olympus, Cello Bag, with Euroslot Header, Size 65 x 120mm - 1,000 pack£18.13

Price as low as £16.13 subject to quantity

More Info

•Sample Olympus, Cello Bag, with Euroslot Header, Size 65 x 120mm£0.00

A free sample to show quality and size.

More Info

Olympus, Cello Bag, with Euroslot Header, Size 80 x 85mm£0.08 (1)

Price as low as £0.02 subject to quantity

More Info

Olympus, Cello Bag, with Euroslot Header, Size 80 x 85mm - 1,000 pack£17.40

Price as low as £15.49 subject to quantity

More Info

•Sample Olympus, Cello Bag, with Euroslot Header, Size 80 x 85mm£0.00

A free sample to show quality and size.

More Info

Olympus, Cello Bag, with Euroslot Header, Size 85 x 150mm£0.09

Price as low as £0.03 subject to quantity

More Info

Olympus, Cello Bag, with Euroslot Header, Size 85 x 150mm - 1,000 pack£20.21

Price as low as £17.98 subject to quantity

More Info

•Sample Olympus, Cello Bag, with Euroslot Header, Size 85 x 150mm£0.00

A free sample to show quality and size.

More Info

Olympus, Cello Bag, with Euroslot Header, Size 85 x 220mm£0.22

Price as low as £0.07 subject to quantity

More Info

Olympus, Cello Bag, with Euroslot Header, Size 85 x 220mm - 1,000 pack£49.54

Price as low as £44.09 subject to quantity

More Info

•Sample Olympus, Cello Bag, with Euroslot Header, Size 85 x 220mm£0.00

A free sample to show quality and size.

More Info

Olympus, Cello Bag, with Euroslot Header, Size 92 x 92mm£0.13

Price as low as £0.04 subject to quantity

More Info

Olympus, Cello Bag, with Euroslot Header, Size 92 x 92mm - 1,000 pack£28.61

Price as low as £25.46 subject to quantity

More Info

•Sample Olympus, Cello Bag, with Euroslot Header, Size 92 x 92mm£0.00

A free sample to show quality and size.

More Info

Olympus, Cello Bag, with Euroslot Header, Size 95 x 165mm£0.11

Price as low as £0.03 subject to quantity

More Info

Olympus, Cello Bag, with Euroslot Header, Size 95 x 165mm - 1,000 pack£23.53

Price as low as £20.94 subject to quantity

More Info

•Sample Olympus, Cello Bag, with Euroslot Header, Size 95 x 165mm£0.00

A free sample to show quality and size.

More Info

Olympus, Cello Bag, with Euroslot Header, Size 95 x 230mm£0.17

Price as low as £0.05 subject to quantity

More Info

Olympus, Cello Bag, with Euroslot Header, Size 95 x 230mm - 1,000 pack£37.67 (1)

Price as low as £33.53 subject to quantity

More Info

•Sample Olympus, Cello Bag, with Euroslot Header, Size 95 x 230mm£0.00

A free sample to show quality and size.

More Info

Olympus, Cello Bag, with Euroslot Header, Size 110 x 110mm£0.14

Price as low as £0.04 subject to quantity

More Info

Olympus, Cello Bag, with Euroslot Header, Size 110 x 110mm - 1,000 pack£31.22

Price as low as £27.79 subject to quantity

More Info

•Sample Olympus, Cello Bag, with Euroslot Header, Size 110 x 110mm£0.00

A free sample to show quality and size.

More Info

Olympus, Cello Bag, with Euroslot Header, Size 120 x 230mm£0.16

Price as low as £0.05 subject to quantity

More Info

Olympus, Cello Bag, with Euroslot Header, Size 120 x 230mm - 1,000 pack£35.98

Price as low as £32.02 subject to quantity

More Info

•Sample Olympus, Cello Bag, with Euroslot Header, Size 120 x 230mm£0.00

A free sample to show quality and size.

More Info

Olympus, Cello Bag, with Euroslot Header, Size 125 x 170mm£0.14

Price as low as £0.04 subject to quantity

More Info

Olympus, Cello Bag, with Euroslot Header, Size 125 x 170mm - 1,000 pack£31.50

Price as low as £28.04 subject to quantity

More Info

•Sample Olympus, Cello Bag, with Euroslot Header, Size 125 x 170mm£0.00

A free sample to show quality and size.

More Info

Olympus, Cello Bag, with Euroslot Header, Size 135 x 138mm£0.24

Price as low as £0.07 subject to quantity

More Info

Olympus, Cello Bag, with Euroslot Header, Size 135 x 138mm - 1,000 pack£53.91

Price as low as £47.98 subject to quantity

More Info

•Sample Olympus, Cello Bag, with Euroslot Header, Size 135 x 138mm£0.00

A free sample to show quality and size.

More Info

Olympus, Cello Bag, with Euroslot Header, Size 152 x 305mm£0.33 (1)

Price as low as £0.10 subject to quantity

More Info

Olympus, Cello Bag, with Euroslot Header, Size 152 x 305mm - 1,000 pack£75.75

Price as low as £67.42 subject to quantity

More Info

•Sample Olympus, Cello Bag, with Euroslot Header, Size 152 x 305mm£0.00

A free sample to show quality and size.

More Info

Olympus, Cello Bag, with Euroslot Header, Size 163 x 160mm£0.23

Price as low as £0.07 subject to quantity

More Info

Olympus, Cello Bag, with Euroslot Header, Size 163 x 160mm - 1,000 pack£53.01

Price as low as £47.18 subject to quantity

More Info

•Sample Olympus, Cello Bag, with Euroslot Header, Size 163 x 160mm£0.00

A free sample to show quality and size.

More Info