Secure Payments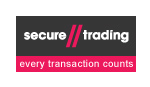 SERVICE UPDATE:- Our website is now OPEN and taking orders again following our recent flooding. Please bear with us as orders may take a little longer than normal while we replenish our stocks.
Cello Bags with Re-Seal Flaps
Individual and bulk packed cello bags with a self seal strip for easy closure. Made from 30 or 40 micron polypropylene film, these clear cellophane bags are ideal for displaying cards, photos, artwork, and gift packs. With over 30 sizes available and extremely competitive prices our extensive range of Cello display bags is impressive to say the least.
Sample Cello Bags are also available free of charge to test the product before purchase!
Bespoke bags can be made to your size requirements. To request a price for custom made bags click HERE
Olympus, Cello Bag, with re-seal flaps, Size 40 x 45mm£0.07

Price as low as £0.02 subject to quantity

More Info

Olympus, Cello Bag, with re-seal flaps, Size 40 x 45mm - 1,000 pack£13.80

Price as low as £12.28 subject to quantity

More Info

•Sample Olympus, Cello Bag, with re-seal flaps, Size 40 x 45mm£0.00

A free sample to show quality and size.

More Info

Olympus, Cello Bag, with re-seal flaps, Size 40 x 220mm£0.09

Price as low as £0.03 subject to quantity

More Info

Olympus, Cello Bag, with re-seal flaps, Size 40 x 220mm - 1,000 pack£20.34

Price as low as £18.10 subject to quantity

More Info

•Sample Olympus, Cello Bag, with re-seal flaps, Size 40 x 220mm£0.00 (1)

A free sample to show quality and size.

More Info

Olympus, Cello Bag, with re-seal flaps, Size 60 x 65mm£0.07

Price as low as £0.02 subject to quantity

More Info

Olympus, Cello Bag, with re-seal flaps, Size 60 x 65mm - 1,000 pack£15.28

Price as low as £13.60 subject to quantity

More Info

•Sample Olympus, Cello Bag, with re-seal flaps, Size 60 x 65mm£0.00

A free sample to show quality and size.

More Info

Olympus, Cello Bag, with re-seal flaps, Size 65 x 100mm£0.09

Price as low as £0.03 subject to quantity

More Info

Olympus, Cello Bag, with re-seal flaps, Size 65 x 100mm - 1,000 pack£20.79

Price as low as £18.50 subject to quantity

More Info

•Sample Olympus, Cello Bag, with re-seal flaps, Size 65 x 100mm£0.00

A free sample to show quality and size.

More Info

EzePack, Cello Bag, with re-seal flaps, Size 60 x 220mm£0.10 (1)

Price as low as £0.03 subject to quantity

More Info

EzePack, Cello Bag, with re-seal flaps, Size 60 x 220mm - 1,000 pack£21.64

Price as low as £19.26 subject to quantity

More Info

•Sample EzePack, Cello Bag, with re-seal flaps, Size 60 x 220mm£0.00

A free sample to show quality and size.

More Info

Olympus, Cello Bag, with re-seal flaps, Size 80 x 162mm£0.11

Price as low as £0.03 subject to quantity

More Info

Olympus, Cello Bag, with re-seal flaps, Size 80 x 162mm - 1,000 pack£23.61

Price as low as £21.02 subject to quantity

More Info

•Sample Olympus, Cello Bag, with re-seal flaps, Size 80 x 162mm£0.00

A free sample to show quality and size.

More Info

Olympus, Cello Bag, with re-seal flaps, Size 87 x 113mm£0.08

Price as low as £0.02 subject to quantity

To fit C7 envelope and card

More Info

Olympus, Cello Bag, with re-seal flaps, Size 87 x 113mm - 1,000 pack£17.46

Price as low as £15.54 subject to quantity

To fit C7 envelope and card

More Info

•Sample Olympus, Cello Bag, with re-seal flaps, Size 87 x 113mm£0.00

A free sample to show quality and size.

To fit C7 envelope and card

More Info

Olympus, Cello Bag, with re-seal flaps, Size 88 x 162mm£0.09

Price as low as £0.03 subject to quantity

More Info

Olympus, Cello Bag, with re-seal flaps, Size 88 x 162mm - 1,000 pack£19.74

Price as low as £17.56 subject to quantity

More Info

•Sample Olympus, Cello Bag, with re-seal flaps, Size 88 x 162mm£0.00 (1)

A free sample to show quality and size.

More Info

EzePack, Cello Bag, with re-seal flaps, Size 89 x 216mm£0.08

Price as low as £0.02 subject to quantity

To fit 85 x 216mm envelope and card

More Info

EzePack, Cello Bag, with re-seal flaps, Size 89 x 216mm - 1,000 pack£19.50

Price as low as £17.36 subject to quantity

To fit 85 x 216mm envelope and card

More Info

•Sample EzePack, Cello Bag, with re-seal flaps, Size 89 x 216mm£0.00

A free sample to show quality and size.

To fit 85 x 216mm envelope and card

More Info

Olympus, Cello Bag, with re-seal flaps, Size 90 x 85mm£0.12

Price as low as £0.03 subject to quantity

More Info

Olympus, Cello Bag, with re-seal flaps, Size 90 x 85mm - 1,000 pack£27.30

Price as low as £24.30 subject to quantity

More Info

•Sample Olympus, Cello Bag, with re-seal flaps, Size 90 x 85mm£0.00

A free sample to show quality and size.

More Info

Olympus, Cello Bag, with re-seal flaps, Size 90 x 130mm£0.09 (1)

Price as low as £0.03 subject to quantity

More Info

Olympus, Cello Bag, with re-seal flaps, Size 90 x 130mm - 1,000 pack£18.62 (2)

Price as low as £16.57 subject to quantity

More Info

•Sample Olympus Cello Bag, with re-seal flaps, Size 90 x 130mm£0.00

A free sample to show quality and size.

More Info

EzePack, Cello Bag, with re-seal flaps, Size 90 x 165mm£0.12

Price as low as £0.04 subject to quantity

More Info

EzePack, Cello Bag, with re-seal flaps, Size 90 x 165mm - 1,000 pack£25.71

Price as low as £22.89 subject to quantity

More Info

•Sample EzePack, Cello Bag, with re-seal flaps, Size 90 x 165mm£0.00

A free sample to show quality and size.

More Info

EzePack, 40mic Cello Bag, with re-seal flaps, Size 107 x 155mm£0.21

Price as low as £0.06 subject to quantity

To fit 6" x 4" Photo Mount

More Info

EzePack, 40mic Cello Bag, with re-seal flaps, Size 107 x 155mm - 1,000 pack£46.93

Price as low as £41.77 subject to quantity

To fit 6" x 4" Photo Mount

More Info

•Sample EzePack 40mic Cello Bag, with re-seal flaps, Size 107 x 155mm£0.00

A free sample to show quality and size.

To fit 6" x 4" Photo Mount

More Info

EzePack, Cello Bag, with re-seal flaps, Size 110 x 105mm£0.08 (1)

Price as low as £0.02 subject to quantity

To fit 105 x 105mm envelope and card

More Info

EzePack, Cello Bag, with re-seal flaps, Size 110 x 105mm - 1,000 pack£18.32 (1)

Price as low as £16.31 subject to quantity

To fit 105 x 105mm envelope and card

More Info

•Sample EzePack, Cello Bag, with re-seal flaps, Size 110 x 105mm£0.00

A free sample to show quality and size.

To fit 105 x 105mm envelope and card

More Info