Secure Payments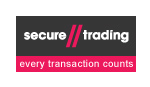 SERVICE UPDATE:- Our website is now OPEN and taking orders again following our recent flooding. Please bear with us as orders may take a little longer than normal while we replenish our stocks.
Spectrum Black Gummed Envelopes
Spectrum Black Envelopes are a high-quality, smooth product produced using 100gsm matt black paper. With over 6 sizes available including, C6, C5 and 130 x 130mm with small and large pack quantities to suit your specific requirements these envelopes would be a smart alternative to traditional white envelopes for parties, events and weddings etc.
Black paper and card also available.
Spectrum Greetings Card Envelope, C7 (82 x 113mm), Black£0.11

Price as low as £0.04 subject to quantity

More Info

Spectrum Greetings Card Envelope, C7 (82 x 113mm), Black - 1,000 Envelopes£36.48

Price as low as £32.83 subject to quantity

More Info

•Sample Spectrum Envelope, C7, Black£0.00

A free sample to show shade, quality and size.

More Info

Spectrum Greetings Card Envelope, C6 (114 x 162mm), Black£0.16

Price as low as £0.06 subject to quantity

More Info

Spectrum Greetings Card Envelope, C6 (114 x 162mm), Black - 1,000 Envelopes£52.88

Price as low as £47.59 subject to quantity

More Info

•Sample Spectrum Envelope, C6, Black£0.00

A free sample to show shade, quality and size.

More Info

Spectrum Greetings Card Envelope, 130 x 130mm, Black£0.16

Price as low as £0.06 subject to quantity

More Info

Spectrum Greetings Card Envelope, 130 x 130mm, Black - 1,000 Envelopes£52.88

Price as low as £47.59 subject to quantity

More Info

•Sample Spectrum Envelope, 130 x 130mm, Black£0.00

A free sample to show shade, quality and size.

More Info

Spectrum Greetings Card Envelope, 155 x 155mm, Black£0.17 (1)

Price as low as £0.06 subject to quantity

More Info

Spectrum Greetings Card Envelope, 155 x 155mm, Black - 1,000 Envelopes£56.48

Price as low as £50.83 subject to quantity

More Info

•Sample Spectrum Envelope, 155 x 155mm, Black£0.00

A free sample to show shade, quality and size.

More Info

Spectrum Greetings Card Envelope, 125 x 175mm, Black£0.17

Price as low as £0.06 subject to quantity

More Info

Spectrum Greetings Card Envelope, 125 x 175mm, Black - 1,000 Envelopes£54.00

Price as low as £49.14 subject to quantity

More Info

•Sample Spectrum Envelope, 125 x 175mm, Black£0.00

A free sample to show shade, quality and size.

More Info

Spectrum Greetings Card Envelope, 133 x 184mm, Black£0.17

Price as low as £0.06 subject to quantity

More Info

Spectrum Greetings Card Envelope, 133 x 184mm, Black - 1,000 Envelopes£54.00

Price as low as £49.14 subject to quantity

More Info

•Sample Spectrum Envelope, 133 x 184mm, Black£0.00

A free sample to show shade, quality and size.

More Info

Spectrum Greetings Card Envelope, C5 (162 x 229mm), Black£0.29

Price as low as £0.10 subject to quantity

More Info

Spectrum Greetings Card Envelope, C5 (162 x 229mm), Black - 1,000 Envelopes£96.48

Price as low as £86.83 subject to quantity

More Info

•Sample Spectrum Envelope, C5, Black£0.00

A free sample to show shade, quality and size.

More Info