Secure Payments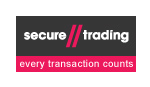 SERVICE UPDATE:- Our website is now OPEN and taking orders again following our recent flooding. Please bear with us as orders may take a little longer than normal while we replenish our stocks.
Mirralux, Cast Coated Card
A 250gsm white card with a single sided, cast coated surface. Ideal for promotional works due to the eyecatching high gloss surface, this cast coated card is extremely popular amongst printers and marketing companies specialising in advertising. Cast coated card is a beautiful high quality product and is suitable for many printing techniques with excellent results.
•Sample Snippet, Mirralux, Cast Coated, Single Sided High Gloss, 250gsm, White£0.00

A free sample snippet of the material to show Colour, Finish and Substance.


More Info

---

Mirralux, Cast Coated, Single Sided High Gloss, 250gsm, A6, White£0.33 (1)

Price as low as £0.06 subject to quantity


More Info

---

Mirralux, Cast Coated, Single Sided High Gloss, 250gsm, A5, White£0.50

Price as low as £0.10 subject to quantity


More Info

---

Mirralux, Cast Coated, Single Sided High Gloss, 250gsm, A4, White£0.90

Price as low as £0.17 subject to quantity


More Info

---

Mirralux, Cast Coated, Single Sided High Gloss, 250gsm, A3, White£1.58

Price as low as £0.32 subject to quantity


More Info

---

Mirralux, Cast Coated, Single Sided High Gloss, 250gsm, A2, White£3.58

Price as low as £0.68 subject to quantity


More Info

---

Mirralux, Cast Coated, Single Sided High Gloss, 250gsm, SRA4, White£0.90

Price as low as £0.17 subject to quantity


More Info

---

Mirralux, Cast Coated, Single Sided High Gloss, 250gsm, SRA3, White£1.69 (1)

Price as low as £0.32 subject to quantity


More Info

---

Mirralux, Cast Coated, Single Sided High Gloss, 250gsm, SRA2, White£3.58

Price as low as £0.68 subject to quantity


More Info

---

Mirralux, Cast Coated, Single Sided High Gloss, 250gsm, 305 x 305mm (12 x 12 inch), White£1.69

Price as low as £0.32 subject to quantity


More Info

---

Mirralux, Cast Coated, Single Sided High Gloss, 250gsm, A1, White - 125 sheets£307.50

Price as low as £216.25subject to quantity


More Info

---

Mirralux, Cast Coated, Single Sided High Gloss, 250gsm, Special Sizes, (Size Group M), White£0.81

Price as low as £0.15 subject to quantity

Special sizes in this group include,
177 x 192mm
180 x 220mm
190 x 190mm
200 x 200mm

Please contact us if you require a different size.


More Info

---

Mirralux, Cast Coated, Single Sided High Gloss, 250gsm, Special Sizes, (Size Group N), White£0.98

Price as low as £0.19 subject to quantity

Special sizes in this group include,
148 x 296mm
152 x 305mm (6 x 12")
178 x 254mm (7 x 10")
203 x 254mm (8 x 10")
210 x 210mm
210 x 260mm

Please contact us if you require a different size.


More Info