Secure Payments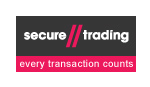 SERVICE UPDATE:- Our website is now OPEN and taking orders again following our recent flooding. Please bear with us as orders may take a little longer than normal while we replenish our stocks.
Spectrum Metallic Gold & Silver Envelopes
Quality envelopes ideal for greeting cards, invitations, etc... Made from 95gsm paper with a gummed diamond flap on the long edge displaying a lovely metalic finish. Due to the nature of this material shade can vary between batches.
Spectrum Greetings Card Envelope, C6 (114 x 162mm), Metallic Gold£0.20

Price as low as £0.07 subject to quantity

More Info

Spectrum Greetings Card Envelope, C6 (114 x 162mm), Metallic Gold - 1,000 Envelopes£66.48

Price as low as £59.83 subject to quantity

More Info

•Sample Spectrum Envelope, C6, Metallic Gold£0.00

A free sample to show shade, quality and size.

More Info

Spectrum Greetings Card Envelope, C6 (114 x 162mm), Metallic Silver£0.19

Price as low as £0.07 subject to quantity

More Info

Spectrum Greetings Card Envelope, C6 (114 x 162mm), Metallic Silver - 1,000 Envelopes£61.48

Price as low as £55.33 subject to quantity

More Info

•Sample Spectrum Envelope, C6, Metallic Silver£0.00

A free sample to show shade, quality and size.

More Info

Spectrum Greetings Card Envelope, C5 (162 x 229mm), Metallic Gold£0.45

Price as low as £0.16 subject to quantity

More Info

Spectrum Greetings Card Envelope, C5 (162 x 229mm), Metallic Gold - 1,000 Envelopes£147.48 (1)

Price as low as £132.73 subject to quantity

More Info

•Sample Spectrum Envelope, C5, Metallic Gold£0.00

A free sample to show shade, quality and size.

More Info

Spectrum Greetings Card Envelope, C5 (162 x 229mm), Metallic Silver£0.42 (3)

Price as low as £0.15 subject to quantity

More Info

Spectrum Greetings Card Envelope, C5 (162 x 229mm), Metallic Silver - 1,000 Envelopes£138.00

Price as low as £124.20 subject to quantity

More Info

•Sample Spectrum Envelope, C5, Metallic Silver£0.00

A free sample to show shade, quality and size.

More Info