Secure Payments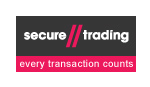 SERVICE UPDATE:- Our website is now OPEN and taking orders again following our recent flooding. Please bear with us as orders may take a little longer than normal while we replenish our stocks.
Spectrum Pearlescent Envelopes
Spectrum pearlescent envelopes are a stunning and exquisite item which are most popular when partnered with single fold cards for wedding invitations and greetings cards. Supplied in 4 beautiful colours in C6 (to fit A6) with the Oyster White also being available in C5 (to fit A5) and 155 x 155mm. These envelopes are manufactured using 90gsm pearlescent paper which gives a luxurious shimmer effect. Free sample envelopes available to test product.
Spectrum Greetings Card Envelope, C7 (82 x 113mm), Pearlescent Oyster White£0.12

Price as low as £0.04 subject to quantity

More Info

Spectrum Greetings Card Envelope, C7 (82 x 113mm), Pearlescent Oyster White - 1,000 Envelopes£39.48

Price as low as £35.92 subject to quantity

More Info

•Sample Spectrum Envelope, C7, Pearlescent Oyster White£0.00

A free sample to show shade, quality and size.

More Info

Spectrum Greetings Card Envelope, C6 (114 x 162mm), Pearlescent Oyster White£0.17

Price as low as £0.06 subject to quantity

More Info

Spectrum Greetings Card Envelope, C6 (114 x 162mm), Pearlescent Oyster White - 1,000 Envelopes£56.02

Price as low as £50.42 subject to quantity

More Info

•Sample Spectrum Envelope, C6, Pearlescent Oyster White£0.00

A free sample to show shade, quality and size.

More Info

Spectrum Greetings Card Envelope, C6 (114 x 162mm), Pearlescent Champagne£0.26

Price as low as £0.09 subject to quantity

More Info

Spectrum Greetings Card Envelope, C6 (114 x 162mm), Pearlescent Champagne - 1,000 Envelopes£84.48

Price as low as £76.03 subject to quantity

More Info

•Sample Spectrum Envelope, C6, Pearlescent Champagne£0.00

A free sample to show shade, quality and size.

More Info

Spectrum Greetings Card Envelope, 155 x 155mm, Pearlescent Oyster White£0.21 (3)

Price as low as £0.07 subject to quantity

More Info

Spectrum Greetings Card Envelope, 155 x 155mm, Pearlescent Oyster White - 1,000 Envelopes£68.48

Price as low as £61.63 subject to quantity

More Info

•Sample Spectrum Envelope, 155 x 155mm, Pearlescent Oyster White£0.00

A free sample to show shade, quality and size.

More Info

Spectrum Greetings Card Envelope, C5 (162 x 229mm), Pearlescent Oyster White£0.38 (1)

Price as low as £0.13 subject to quantity

More Info

Spectrum Greetings Card Envelope, C5 (162 x 229mm), Pearlescent Oyster White - 1,000 Envelopes£124.00

Price as low as £111.60 subject to quantity

More Info

•Sample Spectrum Envelope, C5, Pearlescent Oyster White£0.00

A free sample to show shade, quality and size.

More Info