Secure Payments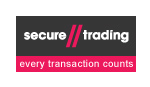 SERVICE UPDATE:- Our website is now OPEN and taking orders again following our recent flooding. Please bear with us as orders may take a little longer than normal while we replenish our stocks.
Merlin Laid, Textured Envelopes
Quality Laid Textured White envelopes made from 100gsm paper with a gummed diamond flap on the long edge. Five sizes in stock, bulk orders can be taken for the C6.
Merlin Laid, Textured Greetings Card Envelope, C6 (114 x 162mm), White£0.12

Price as low as £0.04 subject to quantity

More Info

Merlin Laid, Textured Greetings Card Envelope, C6 (114 x 162mm), White - 1,000 Envelopes£38.00

Price as low as £34.20 subject to quantity

More Info

•Sample Merlin Laid Textured Envelope, C6, White£0.00

A free sample to show shade, quality and size.

More Info

Merlin Laid, Textured Greetings Card Envelope, 155 x 155mm, White£0.14

Price as low as £0.05 subject to quantity

More Info

Merlin Laid, Textured Greetings Card Envelope, 155 x 155mm White - 1,000 Envelopes£43.88

Price as low as £39.93 subject to quantity

More Info

•Sample Merlin Laid Textured Envelope, 155 x 155mm, White£0.00

A free sample to show shade, quality and size.

More Info