Secure Payments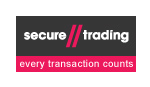 SERVICE UPDATE:- Our website is now OPEN and taking orders again following our recent flooding. Please bear with us as orders may take a little longer than normal while we replenish our stocks.
Uncoated, White, Self Adhesive Paper
U-Stick white permanent self adhesive paper is suitable for Photocopiers, Laser and Inkjet printing It sticks to most paper and card surfaces, may also be suitable for wood, ceramics and some plastics but we recommend testing a small order prior to placing a large order. The backing paper contains slits to aid easy removal.
•Sample Snippet, U-Stick, Uncoated, White, Self Adhesive Paper£0.00

A free sample snippet of the material to show Colour, Finish and Substance.


More Info

---

U-Stick, Uncoated, White, Self Adhesive Paper, A5£0.28

Price as low as £0.05 subject to quantity


More Info

---

U-Stick, Uncoated, White, Self Adhesive Paper, A4£0.47 (3)

Price as low as £0.09 subject to quantity


More Info

---

U-Stick, Uncoated, White, Self Adhesive Paper, A3£0.83 (2)

Price as low as £0.16 subject to quantity


More Info

---

U-Stick, Uncoated, White, Self Adhesive Paper, A2£1.57

Price as low as £0.30 subject to quantity


More Info

---

U-Stick, Uncoated, White, Self Adhesive Paper, SRA3£0.83 (2)

Price as low as £0.16 subject to quantity


More Info

---

U-Stick, Uncoated, White, Self Adhesive Paper, SRA2£1.57

Price as low as £0.30 subject to quantity


More Info

---

U-Stick, Uncoated, White, Self Adhesive Paper, 216 x 279mm (8.5 x 11")£0.47

Price as low as £0.09 subject to quantity


More Info

---

U-Stick, Uncoated, White, Self Adhesive Paper, Special Sizes, (Size Group S)£1.71

Price as low as £0.32 subject to quantity

Special sizes in this group include,
330 x 482mm
400 x 400mm
420 x 450mm

Please contact us if you require a different size.


More Info