Secure Payments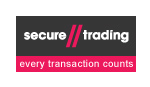 SERVICE UPDATE:- Our website is now OPEN and taking orders again following our recent flooding. Please bear with us as orders may take a little longer than normal while we replenish our stocks.
Rapid Recycled Envelopes
Our White Rapid Recycled Envelopes are a great choice if you are looking for an eco friendly alternative to standard envelopes. Made from 100gsm recycled paper with a gummed diamond flap on the long edge we have 6 great sizes to choose from. Ideal for greeting cards, invitations, etc.
Rapid Recycled Envelope, C7 (82 x 113mm), White£0.10

Price as low as £0.04 subject to quantity

More Info

Rapid Recycled Envelope, C7 (82 x 113mm), White - 1,000 Envelopes£31.63

Price as low as £28.78 subject to quantity

More Info

•Sample Rapid Recycled Envelope, C7 (82 x 113mm), White£0.00

A free sample to show shade, quality and size.

More Info

Rapid Recycled Envelope, DL (110 x 220mm), White£0.17

Price as low as £0.06 subject to quantity

More Info

Rapid Recycled Envelope, DL (110 x 220mm), White - 1,000 Envelopes£54.27

Price as low as £49.38 subject to quantity

More Info

•Sample Rapid Recycled Envelope, DL (110 x 220mm), White£0.00

A free sample to show shade, quality and size.

More Info

Rapid Recycled Envelope, C6 (114 x 162mm), White£0.13

Price as low as £0.05 subject to quantity

More Info

Rapid Recycled Envelope, C6 (114 x 162mm), White - 1,000 Envelopes£41.29

Price as low as £37.58 subject to quantity

More Info

•Sample Rapid Recycled Envelope, C6 (114 x 162mm), White£0.00

A free sample to show shade, quality and size.

More Info

Rapid Recycled Envelope, 130 x 130mm, White£0.13

Price as low as £0.05 subject to quantity

More Info

Rapid Recycled Envelope, 130 x 130mm, White - 1,000 Envelopes£40.81

Price as low as £37.14 subject to quantity

More Info

•Sample Rapid Recycled Envelope, 130 x 130mm, White£0.00

A free sample to show shade, quality and size.

More Info

Rapid Recycled Envelope, 133 x 184mm, White£0.15

Price as low as £0.05 subject to quantity

More Info

Rapid Recycled Envelope, 133 x 184mm, White - 1,000 Envelopes£46.75

Price as low as £42.54 subject to quantity

More Info

•Sample Rapid Recycled Envelope, 133 x 184mm, White£0.00

A free sample to show shade, quality and size.

More Info

Rapid Recycled Envelope, 155 x 155mm, White£0.18 (1)

Price as low as £0.06 subject to quantity

More Info

Rapid Recycled Envelope, 155 x 155mm, White - 1,000 Envelopes£56.77

Price as low as £51.66 subject to quantity

More Info

•Sample Rapid Recycled Envelope, 155 x 155mm, White£0.00

A free sample to show shade, quality and size.

More Info

Rapid Recycled Envelope, C5 (162 x 229mm), White£0.19

Price as low as £0.07 subject to quantity

More Info

Rapid Recycled Envelope, C5 (162 x 229mm), White - 1,000 Envelopes£63.33

Price as low as £57.63 subject to quantity

More Info

•Sample Rapid Recycled Envelope, C5 (162 x 229mm), White£0.00

A free sample to show shade, quality and size.

More Info