Simple Paper Craft Projects You Can Try Right Now
15 June 2020 | Laura

Sometimes it is hard to know where to even start with paper craft projects, there are so many choices of tutorials and many of them require specialised equipment such as die cut machines or a large supply of different papers. In this blog post, I'd like to show you three simple projects you can try with any paper type, which only require scissors and glue to get started! And the real beauty is that once you have mastered them you can go on to experiment with using different paper finishes and variations in the sizes and/or cutting to create your own version!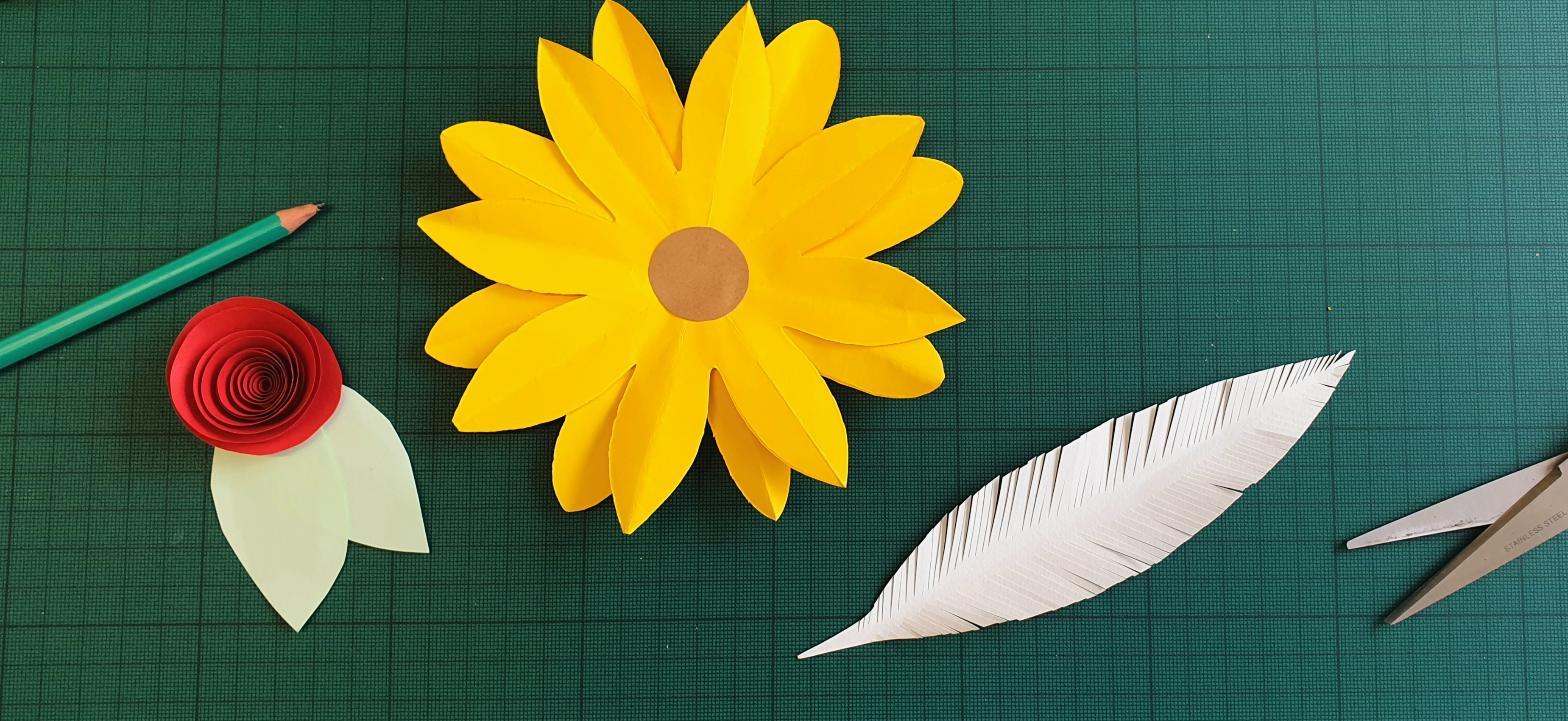 Eight-petalled Flower
This simple 8 petalled flower is so easy it's great even for children, but still so effective! For this I have used Rapid Colour 120gsm in the Goldcrest Yellow shade, with the Nougat Brown 120gsm in the same range for the flower centre.
Begin with a square sheet and fold diagonally
Fold that triangle in half and then in half again
Fold the bottom side of the triangle to the long edge and cut square to even the top
Draw on your petal edge shape, ending about 1cm / 1/2 inch from the bottom corner (corresponding to the centre of the page) and cut
Open out and create a centre using a contrasting round piece of paper, or perhaps a button. You can even combine several sheets for a layered look as shown
You could vary this design by experimenting with different petal shapes.
Feather
Feathers are often thought of as representing a connection to the spiritual realm, so are often used in memorial pieces. This very simple design (shown here in 140gsm Natural shade in our Cumulus range) uses just cutting and folding to create a beautiful feather. Make sure to take your time with the cutting and try and evenly space the cuts for maximum effectiveness.
Draw out a rough feather shape on your page (this piece of paper was approximately 20x5cm, but this can be done in any size)
Cut out and gently bend along the centre
At an angle, begin to cut narrow strips, stopping when you get close to the centre fold
Try to keep the strips even, but don't worry to much as it can add to the organic feel of the finished item
Repeat on the opposite side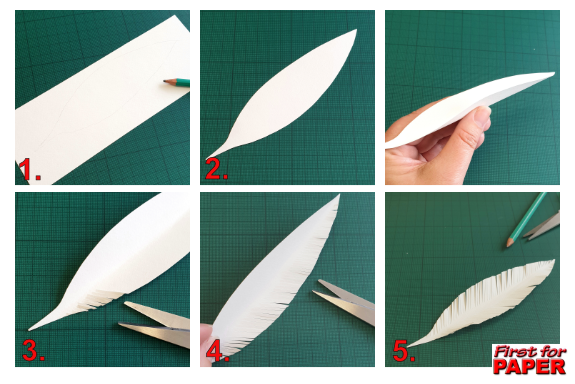 This design would be lovely in scrapbooking or as a decoration in a box frame.
Spiral Rose
Roses are always timeless and this simple spiral design can be done in any lightweight paper stock that you choose. I opted for 120gsm Bright Red shade in our Colourset range.
Cut out a rough circle (you can draw around a glass or small plate if you prefer)
Draw a spiral, roughly 0.5 to 1cm (quarter to half an inch) in depth, nearly all the way to the centre of the circle, and cut
Starting at the outer age, begin rolling the paper, keeping it tight together
Allow the roll to unfurl slightly and arrange the "petals" to suit
Glue down the centre of the spiral at the back of the flower to secure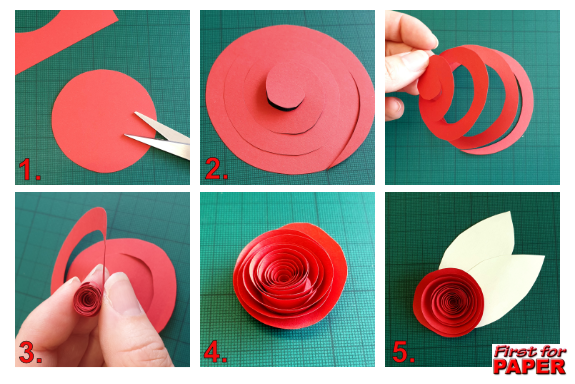 I hope these ideas inspire you, please let us know either in the comments or on our Facebook page if you tried them out and share pics if you'd like to! Happy Crafting!