Wedding Stationery

20 May 2016 | Victoria
Incorporating Paper and Card into Weddings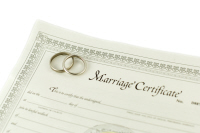 Whether you are a Wedding Planner whose job it is to give the special couple everything they ever dreamed of, a Printer who has been allocated the task of producing the most beautiful wedding stationery on the market or the Bride and Groom to be, who wish to do it all for themselves for a more personalised wedding, the paper, card and envelopes that you choose for your creations are very important. Depending on the theme and colour scheme of the wedding will limit colour and style choices but there's still an awful lot of choice out there. Invitations, guest lists, name places, order of service booklets, thank you cards, favors and guest books to name a few are just a selection of the paper and card crafted items required for a wedding. So here's our pick of favourite products for weddings.
Classic White Wedding
White is the most traditional wedding colour there is. Used to symbolise purity, particularly of the woman, white is the most common, formal choice of wedding stationery. White Invitations, Name Cards etc add a simple yet sophisticated feel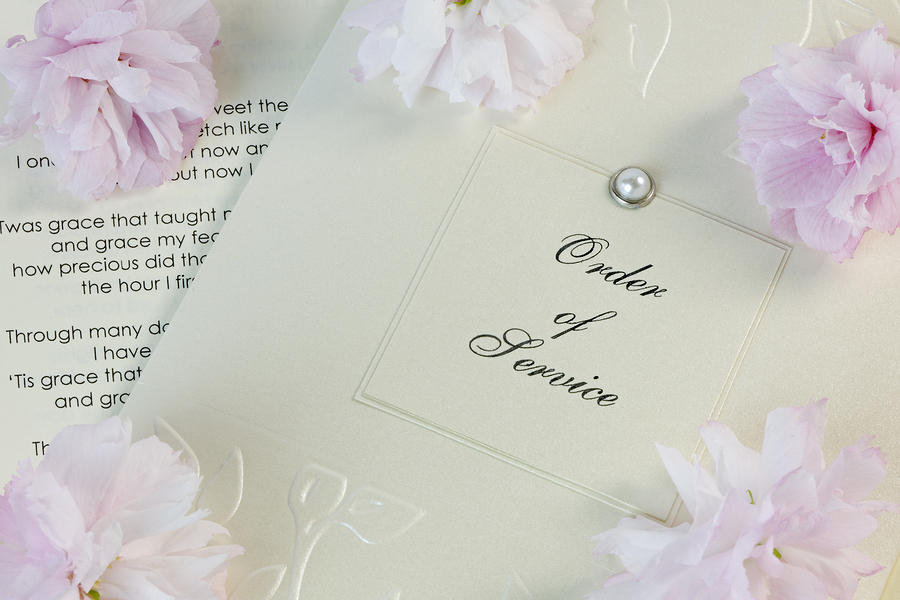 to a wedding.
If you are wanting a high quality card that is smooth, silky to touch with great printing ability with inkjet and laser printers then maybe our Silky Smooth material would be the perfect choice.
Or perhaps our Swift white paper and card? It's smooth and soft surface gives an elegant and sophisticated appearance at reasonable prices.
Looking for something a little bit different? something that stands out from the plain white cards but still like the idea of white as the main colour. Well how about one of our textured materials? Our White Linen textured paper and card is a stunning material with a linear criss cross effect of woven linen. Suitable for many types of printing and looks very sophisticated. Also available in Ivory which is also a subtle yet traditional and popular wedding colour.
Feeling like you would rather have something a little bit edgier, but keeping in with the white style? The Hammer effect card with a subtle yet effective bumpy surface and crisp white colour could be perfect. Or perhaps the Cumulus Card with it's felt textured surface would be a preferred option for a traditional wedding with a subtle quirky element.
All our Apollo Envelopes are perfect for sealing invites, favours and thank you notes to guests. Made from great quality 100gsm white paper with a gummed flap these envelopes can be easily personalised and decorated however you wish or left plain for simplicity.
Shiny Weddings
What better excuse than a wedding do you need for a bit of shine, sparkle and glamour? Whether you want to stand out, remain understated or anything in between, these styles are all obtainable including a bit of sparkle.
Take our Stardream paper and card for example. Stunning shimmery pearlescent material in a selection of subtle and vibrant colours. The pearlescent effect suggests splendour and glamour that are often expected at weddings without looking tacky and cheap. There is a pearlescent white available in this range if you're intending to stick with traditional colours, however colour themed weddings are all the range at the moment so amongst to stardream range there are a selection of beautiful colours to choose from too. Coral is a favourite with Rose, Kunzite and Opal not far behind.
The Stargazer range of pearlescent card at first for paper is a lower priced alternative to the stardream however the number of colours is limited to white or ivory. Both of which are stunning contemporary colours for a wedding theme with a gorgeous pearl effect glistening surface.
Spectrum pearlescent envelopes are also a crowd favourite and look gorgeous for sealing invitations and thank you cards. Available in C6, C5 and 155 x 155mm and a choice of 4 colours these envelopes are top quality and will add effortless elegance and class without paying 'through the roof' prices. Whilst these envelopes are not an exact match to the stardream or stargazer, some are particularly close whilst other colours look great together.
Bright Weddings
If the theme for your wedding is something a little brighter, with bolder colours and eyecatching designs for a more fun and modern style wedding, the selection of colours from our Rapid Colour range is a vast one. With pastel tints through to bright, vibrant colours this range could add a burst of quirky colour into anybody's special day. With over 30 colours in the range with anything from red to blue to green to orange, whatever colours you wish to incorporate into your day these products are available at a fraction of the cost of other branded ranges, without sacrificing on quality.
Colorplan is the leading, most popular brand of colour paper on the market. It's impeccable quality and the choice of 50 colours across the range will leave your mind well and truly blown. The variety of colours and range of weigh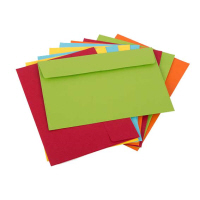 ts for this material is much bigger so if you have specific requirements with no expense spared then colorplan is the must have, top of the range material for your wedding. After all you are only going to do it once, so do it right.
Coloured envelopes are available across a few ranges, including our Spectrum and Premium Colour envelopes, all available at affordable prices, in various quantities and sizes and are all great quality envelopes. Whilst not an exact match on colour with the paper and card ranges, similar colours still look great paired together as card and envelope.
Colorplan however, have their own range of envelopes which are an exact match to the paper and card. Made from their top quality 135gsm paper with some available across the range in either gummed or peel and seal variations. The colorplan paper/card and envelopes would make the perfect sets for wedding stationery and guest invitations.
Gothic Wedding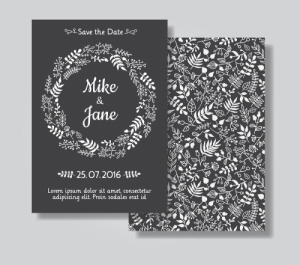 s
A gothic wedding is an original, sassy and stylish theme for those wanting to incorporate a gothic style into their wedding. The contrasting black compliments the traditional theme of a white wedding in a bold yet understated manor. There are both black and grey paper and card materials across the first for paper website which would be a perfect selection to be incorporated into a gothic themed wedding such as our midnight black paper and card. With 6 weights available from 80gsm, perfect for origami flowers for table decorations, right up to 400gsm which are ideal for place cards, menu cards, etc.
Spectrum black envelopes would be a stunning addition to your invitations for a gothic wedding. Fantastic quality, well manufactured envelopes available in 5 sizes including the popular C6, C5 and 130 x 130mm. Seal your handcrafted gothic style invitations into one of these smart, quality envelopes with the addressees name written in white calligraphy for an impressive gothic effect.
So there you have it, stunning wedding stationary ideas to suite a variety of different styles and wedding themes. With the majority of our card selection also offered in pre-creased, single fold cards which are ideal for wedding invitations and place cards you can have your selection of top quality paper or card, delivered straight to your door in just a few days without paying ridiculous prices or traipsing round the shops. You can even order sample snippets of most of the products to get an idea of the style, quality and suitability of each material before purchasing for the wedding, After all this is either yours, someone you care about or someone who has put their trust in you's big day. You need to get this right and with our help, you can.