Welcome Centura Pearl

Thursday, 7 March 2019 | Charlotte
Here at First For Paper we are always adding to and updating our paper and card stocks to make sure we can keep ahead of the market and to do our best to fulfil our customers requirements and demands.
The latest material to adorn our shelves is Centura Pearl, a visually beautiful range of coated pearlescent card with a soft sheen. It comes in 28 colours from delicate pastels to vibrant tones, we stock 310gsm of each colour in sizes from A7 - A3, 12" square and 317 x 450mm (bespoke sizes are also available to order).
A great plus to this material is that it is Acid free and there are no metallic pigments in the coatings, so it is not only environmentally friendly but also won't tarnish or fingerprint, an important positive when considering the applications for this material. Centura Pearl stock is also certified by the Forest Stewardship Council (FSC) under the Chain of Custody Scheme so you can be assured that the material you are using is from a sustainable source.
Centura Pearl is a one sided material very popular for crafts and promotional printing. It lends itself to all forms of printing and foil blocking. The uses for this card are varied and will guarantee a lovely, finished product, with all applications.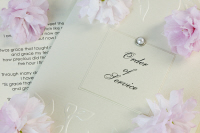 Pearlescent material such as this is a perfect match for creating Wedding Stationery, the subtle pastel tones of this card can blend beautifully to any colour scheme, a classy and truly romantic paper. It follows that greetings cards would also be another great use for this stock, as well as for art projects or maybe even backing board for exhibitions or bulletins. Maybe you would like to produce a professional Business Folder that is a little different from the rest, a Brochure Cover that gives a shimmer to your printed page, a business card that grabs your customers attention or a Company Invite that makes your business event look to be a classy affair. Whatever requirement you have for this lovely material, it won't disappoint.
Colour match is very important to many of our customers along with getting a feel for our paper so snippet samples of this and all other paper and cards can be ordered online on our website for free with just a small charge to cover the cost of postage, so why not send of for samples of Centura Pearl today.